Alton Athletics
Alton High School
Boys Varsity Baseball
Game Summaries & Headlines
.
Boys Varsity Baseball vs. Belleville West HS School
Game Date

Apr 23, 2021

Score

REDBIRDS: 2
BELLEVILLE WEST HIGH SCHOOL: 1
The IHSA-mandated pitch limit ended Jackson Brooks' start with no chance to earn a win Friday at Alton High.
Brooks' could not get a victory with his arm despite pitching into the seventh inning. So, he won it with his legs.
Brooks drew a four-pitch walk with two outs and scored from first on Jayden Diaz's game-winning RBI double that gave the Redbirds' a 2-1 walk-off win over Belleville West in the Southwestern Conference baseball opener for both teams in Godfrey.
Alton is 2-3. West, which had its winning streak snapped at six in a row, is 6-2.
Brooks retired the first two Maroons he faced in the seventh inning and departed with his pitch count at 105. James Vambaketes threw three pitches to earn the win with a strikeout to end West's seventh after Lawson Bruce walked the two batters he faced in relief of Brooks.
Brooks gave one run on four hits and three walks while striking out seven in 6 2/3 innings. West starter Connor Adams took the loss, yielding two runs on eight hits, two walks and six strikeouts on 88 pitches through 6 2/3.
After West went up 1-0 on J.D. Kramer's RBI in the fourth, Alton immediately answered in the bottom of the inning on with Caden Laslie's leadoff home run. That would be all the scoring until Diaz's double, his third hit of the game, avoided extra innings.
Laslie and Lawson Bruce both had two hits for the Redbirds. West's four hits included two from Brandon Pickus.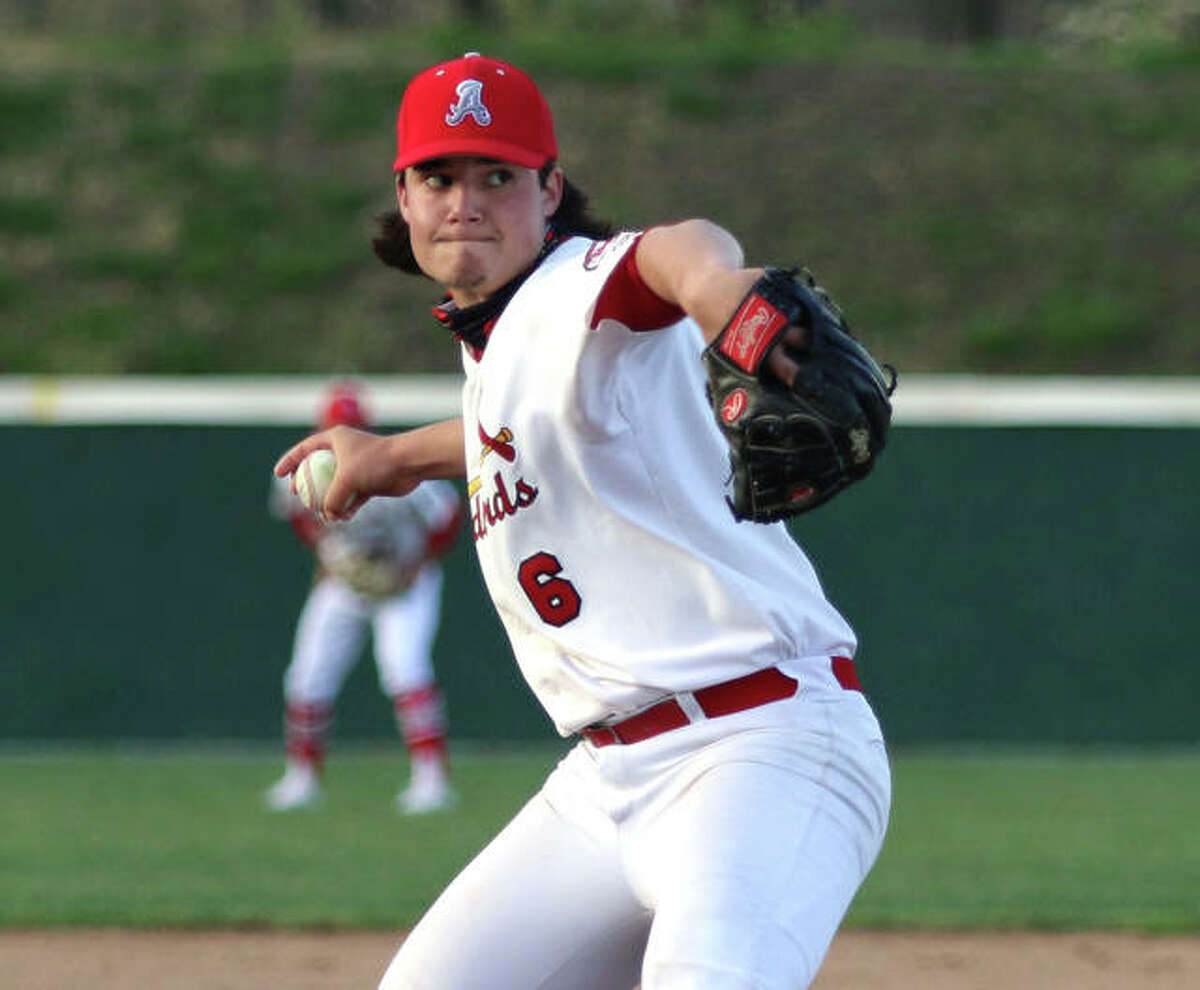 Alton's Jackson Brooks, shown pitching earlier in the season at Alton High, was back on the mound at home Friday and pitched into the seventh inning in the Redbirds' 2-1 victory over Belleville West in Godfrey.
https://altonathletics.org